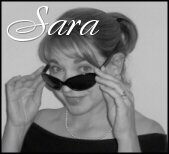 I've switched gears from writing to publicity for the third Mom Zone book, Getting Away is Deadly, which I know is popping up in bookstores thanks to the reports from several helpful GG readers who have reported sighting it.
One of the things I do for publicity is a blog tour with another group of female novelists, the Girlfriends Cyber Circuit. The girlfriends email me questions, which I answer, and then they post the answers on their blogs. It's using the power of the Internet for good, not evil.

So, I'm in the middle of answering these questions when I get this one: "If you had to summarize your book as a bumper sticker, what would it be?"
I came up with "Vacations are Murder" since Ellie accompanies her pilot husband to a training class in Washington D.C. Instead of r&r, she gets mixed up in a murder in the Metro. Which brings up the question of backstory. How did I get the idea to write about a murder on a vacation? Have I had a vacation-gone-bad experience myself?
Not really. I've had typical vacation mishaps—cancelled flights, kids falling sick, and sibling bickering in the backseat. More irritants than disasters, certainly. In fact, the time my flight was cancelled turned into an excellent evening—room service and plenty of ice cream, just what I needed after a day of lugging my bags around the airport from one gate to another.
Now that I think about it, I realize that our family has gone on few "real" vacations. Our travels have been more like Ellie's trip, a combination of work and vacation.
I ran across a statistic the other day that reported Americans are using less of their vacation time than ever. We're taking shorter trips and canceling trips altogether. Our family hasn't gotten to the point of abandoning holidays. We just…multi-task, I guess.
We've made the most of the work-related trips that have fallen into our life. Often our tourist sight-seeing is on the way from one assignment to another, but we've managed to check out some pretty cool places: Washington D.C. (obviously!), San Francisco, the Mariposa Grove of Redwoods, Yosemite, Yellowstone, Hawaii, the white sands of the Gulf coast, and even a few foreign destinations, including England, Germany, and France. Can't really complain, can I?
So what about you? Where has your work taken you? Do you plan vacations and are you actually able to take them? What are you favorite destinations?