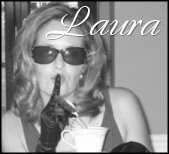 I'm not sure what it was, exactly, that first set them apart from the dozens of other customers I ring out on any given day. But they stood out. So much so I still can't shake them from my mind a week later.
They were relatively young, mid-twenties perhaps. He was the better looking of the two but not in a showy way. His hair was short and well-kept, his height around five-eleven. He wore a pair of jeans and an Irish green t-shirt… Nothing terribly out of the ordinary except for maybe his eyes. They sparkled when he smiled.
She was average in looks, bordering on almost non-descript. Her shoulder-length hair was pulled into a quick and easy ponytail and the only thing I remember about her clothes was a darkish brown waist-length coat of some sort.
Had they approached the register individually during the course of the day, I probably wouldn't be writing this post. But they didn't, and so I am.
In the time it took me to ask if they had a rewards card (they did—and so should you) and to scan their two books (not cheap ones) and her hastily added chocolate bar (my kinda girl), they wormed their way under my skin and into my memory. Where they've remained ever since. And while I've tried to rationalize their impact on my innate love of people watching, I know it's way more than that.
They had it.
You know, that attraction that Hollywood glamorizes in its movies and authors expound on in their books… But with these two, it was every bit as real as the clothes they wore and the books they were buying.
That sparkle in his eyes when he smiled? It was for no one but her. I'm quite confident a bodacious and perfectly air-brushed beauty from Swimsuit Illustrated could have paraded herself in front of the counter and he wouldn't have noticed at all. His attention, his focus, his passion was on no one but the average-looking girl standing by his side who was as genuine and sweet as any I've ever met. And it was obvious he saw that and knew he was one helluva lucky guy.
When I scanned one of their books and it rang up cheaper than they'd expected, they cheered collectively as if they'd been handed a winning lottery ticket. She responded with a cute comment about not feeling bad about buying the book any longer. To which I replied, "or the chocolate." She looked at me and said, with all seriousness, "I never feel bad about chocolate." The look he gave her when she said that was enough to melt anyone's heart. Including the pathetic cashier behind the counter (formerly known as…moi).
As the transaction was coming to a close I asked the standard question as to whether they'd like the receipt with them or in the bag… The receipt went in the bag. The chocolate went with her.
It's been a week since they stood in my presence for all of about three minutes. Yet I haven't forgotten them or the genuine love they obviously had for one another. It wasn't over the top, it wasn't in-your-face, it wasn't jaw-dropping.
It was simply magical…and real.
As real as it gets.
So how about you guys? Have you ever met someone who affected you in a way you could never have imagined? An encounter that you've revisited often? Describe him or her and tell us what it was that took root and wouldn't/didn't let go…
Hugs,
~Laura