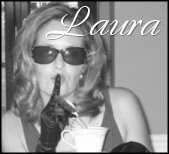 If you're wondering who the above chick is…it's me. Minus the black gloves, evil medicine dropper, and dark sunglasses you've come to expect on Tuesdays here at the Good Girls Kill For Money Club.
But it's still me.
Just more of the everyday me , if you will…
The me that reads. The me that enjoys being outside. The me that likes to travel. The me that adores playing in the ocean's waves. And the me that has Multiple Sclerosis.
I threw that last little factoid in there, because it's as much a part of my life now as the other four. And, even though I'm doing amazingly well (and plan to do everything in my power to keep it that way), it still stinks.
Big time.
Yet, from very early on in my diagnosis phase, I knew I wanted to make a difference where this disease was concerned. I didn't know what or how, I just knew I did.
Eighteen months later, I'm still not exactly sure what path my contribution will take…I just know I need to start the journey. And, with the help of a few friends, the first step on that path starts now.
On April 13th, a handful of writers and friends will be participating in the Walk for M.S. in St. Peters, Missouri. Our goal is to raise awareness of this debilitating disease, as well as funds that will be used to:
1) Help find a cure.
and
2) Assist those who suffer its ill effects.
Now, as wonderful as #1 sounds, the likelihood of there being a cure during my lifetime is slim to none. I know that and I accept it. But it's the next generation (like my kids) that I'm worried about. It's the people who have this disease now –who are forced to go untreated because of its astronomical pricetag–that I'm worried about. It's the people who can't afford the equipment they may need (a cane, a wheelchair, an air conditioner, etc.) that I'm worried about.
To give you a frame of reference, one MRI (without the doc's reading fee) cost over $3,000 last month. That's just ONE test. That's not the injections that cost upwards of 15 Grand per year. Or the quarterly visits to the neurologist… All things made easier if you have insurance. Unfortunately, as is often the case, a disease like this makes it tougher to get insurance.
Everytime I go in for one of my drug study appointments, I hear about another person who is forced to stop treatment because they can't afford the insurance anymore. A single mom barely making end's meet…a man who can't raise the money needed to get his therapy started…a woman who simply can't afford the co-pays any longer…
The list goes on and on. Encompassing more and more people. People like you and me.
People like you and me.
Two years ago, this stuff happened to other people. Sure, it tugged at my heart. Sure, it made me stop and think. But I never truly got it until I was on the receiving end of a life altering diagnosis and experienced–first hand–the ripple effect it sends throughout your entire life.
But I believe things happen for a reason. And I can either sit back and let it destroy me (mentally) or I can kick its butt.
I choose the latter.
I will make a difference.
Fortuantely for me, I have reinforcements.

On April 13th, I won't be walking alone. I'll be walking with a team. A team of writers who also happen to be friends. I'll be joined by:
Heather Webber

Judy Merrill Larsen

Shelley Galloway

and Melanie Lynne Hauser

We know that more voices reach more people. More feet walking raise more funds. More funds raised means more people helped.
But we need your help, first.
We need a name for our team–something that captures who we are and what we're trying to do. We need you to slip on those thinking caps and put your most creative foot forward. The person who provides us with the perfect name for our team (as selected by the five of us) will receive a prize.
What kind of prize, you ask?
A copy of each of our most recent books and a $15 Starbucks giftcard.
So, fire away lurkers and non-lurkers alike. Give us our perfect name. You have all week to post your ideas in the comment section as the winner will not be announced until next Tuesday.
Hugs,
~Laura
*The writers mentioned are those who have given a definitive yes for our April 13th date. Interested in joining us? Drop me an email. Being a writer (and/or female) is not a pre-requisite to join our team. Anyone wanting to make this journey with us is welcome. The more the merrier, as they say!