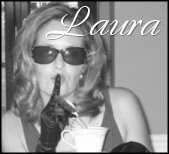 On my desk, beside my computer, sits a silver stone with a single word written across the middle.
Courage.
The stone, itself, sits in a purple lidded box with the inscription: feel the fear and do it anyway.
My best friend, Heather (whom you see in the comment section of my posts most weeks), sent it to me after I was thrown one helluva curveball sixteen months ago. She gave it to me as a reminder, I guess, of what I needed to do from that day forward.
Two weeks after the Good Girls Kill For Money Club blog kicked off in July of 2006, I wrote a post I ended up scrapping at the last minute. Out of fear.
Fear of what-ifs.
But, in all the months since, I've looked to that silver stone more times than I can count. Mostly at times I've needed a boost. Like when I was listening to the jack-hammer of an MRI machine in my ear…again. Like when I was walking down the hall of yet another hospital. Like when I was spending another morning hooked up to a steroid drip to make the numbness stop. Like when I was sitting alone in my doctor's office hearing the final verdict.
Multiple Sclerosis.
For those who don't know what Multiple Sclerosis is, it's a disease that attacks the central nervous system via white spots in a person's brain and/or spinal chord. Meaning, if you can imagine your nerves as electrical wiring, the spots that come with M.S. are places where the insulation around that wiring is actually missing–leaving the wires exposed and ripe for short circuits. Common symptoms of the disease include fatigue, numbness, impaired mobility, chronic aching pain, dizziness/vertigo, leg stiffness, and visual disorders, according to the Multiple Sclerosis Association of America (MSAA), a national nonprofit organization headquartered in Cherry Hill, New Jersey.
You may have heard about M.S. because of the celebrities that have it—Montel Williams, Richard Pryor, Annette Funicello, and Tamia. But there are nearly half-a-million people in this country who have Multiple Sclerosis. A disease for which, as of now, there is no cure.
If you saw me at a conference, or walking along the street, you'd have no clue there is anything wrong. But I know. And all those symptoms I mentioned above don't even come close to describing the hardest of all—the loneliness and the fear that comes with a disease that fires at will, in a different way each and every time.
And that's where the courage comes in. For a private person who has always dealt with curveballs on her own, this one is different. Even though we've caught this early and I'm doing everything in my power to continue treatment…there are times I get scared and simply need an ear. Or a word of encouragement. Or a hug. Things I find extremely hard to seek from other people because it takes trust, something that, for a lot of reasons, is just as scary to me.
But Heather has been all of those things and more.
Harlan (Coben) has been those things—reassuring me those first few weeks that my passion for writing would return (and he was right—Marked by Fate is a book I will always be proud of)…and sticking around to make sure I'm doing okay.
Paul Guyot got me in touch with a writer friend of his who also has M.S. This friend has been a lifeline at times simply by answering questions and being an inspiration. A person I have never met, yet I treasure all the same.
Shawn Reilly, my editor, was supportive from the get-go, working with me on that first post-diagnosis deadline because she believed in me even when I wasn't so sure if *I* did.
Jacky Sach, my brand new agent at the time, let me know she was behind me every step of the way.
My friend, Joe, has understood the emotional side like no one else, making me feel as if someone truly gets the undercurrents that go along with something like this. He knows by the tone of an email or the sound of my voice if something is up. He doesn't run at those times. He doesn't cut me off. Instead, he asks if I'm okay and then listens to my answer. Because he wants to know.
And then there's Jim. Someone very special, whom I've known virtually all my life, who simply appeared out of nowhere and tried to be there despite my crappy verbal communication skills, my self paralyzing neurosis, and all the millions of other things that, unfortunately, have resulted in my being far more trouble than I'm worth.
The list really doesn't go much longer than that because I've kept it relatively quiet. Out of fear.
Fear of what-ifs.
What if a publishing house thinks I can't keep writing. What if people shy away because they don't know what to say. What if this… And what if that…
Then I stop. And I look around. And I realize I've accomplished a lot in the past sixteen months. I've found the courage to seek treatment and am part of a drug study that will hopefully make things easier for future generations. I not only wrote that first post-diagnosis book, I've also completed a romance (cross your fingers for me, everyone—I need this one to happen), written a few proposals, and started on a suspense novel that I'm totally psyched about. I've taken on not one, but three jobs. And I'm raising two girls. Alone.
I've made some real strides despite some tough times. Strides that I can't see sometimes because of the hills still to come. Yet Heather is there, all the time, pointing it out, helping me see how much I've accomplished so far…and never letting me think, for even a second, that she doubts my ability to move mountains in the future.
Today I need to believe her. I need to believe I'm going to kick this disease in the butt.
Because I am.
And my faithful blog readers know that if I give myself a goal I won't stop until I make it.
I realize that sharing this can be a mistake for my career. Editors who don't know me or my determination to succeed, may shy away from offering me a contract in the future for fear of the unknown.
But just as writing is a part of me, so too is the pull to make a difference. And if my story can give even one person courage to hang tough when the odds seem stacked…then the gamble I'm taking by sharing this will be more than worth it in the end.
Here's to courage…
And to Heather—for understanding those times when courage escapes me, and staying right there beside me until I find it again.
Hugs,
~Laura
**Happy Thanksgiving to all our GGKFMC readers!