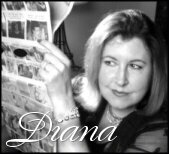 By coincidence this is the heading on my hanging calendar for the month of November. There's a picture of a wide-eyed girl in a tiara and fur — Mr. Thrilling bought me this calendar, and he laughs every time he walks into my office and sees it. I try not to take it personally.
I'm actually a very good cook. True, I only know how to cook about ten things off the top of my head, but I've got stacks of cookbooks (not to mention Food and Wine back issues ) and I'm good at improvising. And, more importantly, I can be content with Jell-O for dinner, especially if there's whipcream and nuts to top it.
(I'm not sure why, but that last sentence seems to read more racy than I intended….)
So, yes, in answer to your question, Mr. Thrilling does 99.9 percent of the cooking around the old homestead.
It's only around this time of year that I start to feel inadequate. The truth is, I never have enough time to do everything I need to do — I've always got my back against the wall of some deadline or another — but in the general course of things, I don't mind. No, I still haven't tried even one of the sauces in that French cookbook I bought three years ago, and I've never made a centerpiece out of pinecones and orange juice cans — I'm lucky if I can keep the bird feeders topped up and the garden watered. I'm happy with the trade-off. I get to write books — pretty good books, if I do say so myself — and someone else gets to be Martha Stewart. Or maybe Wonder Woman. I'm sure there's some amazing chick writer out there who does it all.
(And I hate her with a burning passion. Her, and her perfectly tapered candles in their gleaming crystal candelabras…)
This is the time of year that my early programming — or possibly way too many issues of Victoria magazine — kicks in. And I start feeling the pressure. I feel lke I should be…baking something. Something more demanding than Toll House cookies. I start noticing — and fretting — about the dust, instead of regarding it as a protective layer from the sunlight.
It just doesn't look like a Christmas card around here. It doesn't even look like a Thanksgiving e-card.
Anybody else feeling this pressure to perform? Is it a chick thing? I mean writing just isn't your normal nine to five job. I know we're all making trade-offs, giving up things in order to pursue this dream. And not all the sacrifices have to do with accepting that we can't eat off our floors (unless our furniture gets repossessed) or that our Christmas puddings come in a tin.
And it's not just ourselves making trade-offs; we're asking it of our loved ones, simply by virtue of who and what we are.
So I guess as I sit down to Thanksgiving dinner this week I need to add something to my list of many, many things to be grateful for. Namely Mr. Thrilling, the guy who has to cook the Thanksgiving feast.