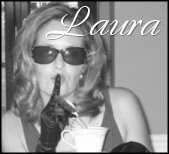 I love summer. Always have.
There's something about sitting in the sun, soaking up the rays, that just makes me happy. The darker I get, the better (Suntan lotion? What's that?). If I could pick the ideal place to live it would be on a beach with the crashing waves visible from every window. No beach? Then a pool will do. Except, of course, if I have to empty the skimmer basket. Eeeewwwwww.
My escapades with this round white plastic mesh "basket" have been so memorable, that I actually started filing online "skimmer reports" for a few of my friends last summer. It was intended as a way to work through the willies I'd gotten from whatever critter I'd flung into the yard on that particular day. I had a subject (that was me), victims (those would be the critters) and a rundown of all activity that transpired from the time the two (sometimes more) crossed paths. Surprisingly, it became a favorite daily email among the selected recipients, with more than a few asking for their return this summer. Who knew?
In a nutshell, nature and I don't mix very well. We never have. We never will.
But in order to swim in the pool, one must empty the little basket thingy known in the pool-using world as the skimmer. To me, it's simply evil incarnate.
Let me explain.
By day, the pool is crystal clear. Inviting. Refreshing. The perfect place to cool off a sun-addicted body.
By night, it turns into a watery grave (if I'm lucky) for just about every creepy, crawly kind of critter you can imagine. Uh huh, that's right. While I sleep, they float down the current caused by the jets and land themselves into the skimmer basket.
Where they wait for morning.
Where they wait… For me.
The first few times I did this job, I was naïve, innocent in the ways of these evil creatures. Translation? I was completely clueless. C-L-U-E-L-E-S-S.
I'd unlock the gate around seven a.m. and head straight for the square trap door, ready to vacuum the pool for a new day of fun. I'd pull off the lid, look inside, and…SHRIEK. Or squeal (not in a happy, thanks for the chocolate way either). Or, in some cases, do a little dance step that surely amused any neighbors who happened to be sipping their coffee at the window.
On a good day, there were water bugs and a few spiders.
On a bad day, there were little frogs, a tiny field mouse or two, a turtle, and yes, even a bird (no wonder bird baths are so shallow). Most of the time, they were dead by the time I got to them. Sucked into the basket where they bloated to twice their normal size. But sometimes, if I was really lucky, one–or four–of the frogs would be happily swimming in the water above the basket.
Here's where it gets tricky. You have to reach inside the water to lift the basket out of the trap. Which means coming within inches of carcasses and swimming frogs (eeewwwww). Most of the time, I'd simply shut the lid and walk away, confident that they, too, would grow weary and expand their waistlines like their kinfolk.
Sometimes they did. Sometimes they didn't.
When they did, I just crinkled my nose and lifted the basket of bodies from the basin, my mouth forming a continuous "Eeewwwwww (which, of course, was followed soon after, by a full body shudder)."
When they didn't, I had to try other tactics. Like spraying a hose in the basket, hoping the added water would weaken their motivation to keep swimming (not highly successful). Or like telling them it was okay to give up…that they'd fought a good fight and it was time to go home (they didn't listen). Or, if I timed the whole process right, like releasing a shriek just as my next door neighbor came outside to do whatever it is he does (works like magic every time—men love to be the white knight coming to rescue the fair maiden). God, I hope he's not reading this blog. But, just in case: Hi, Jason. You're the best!
What is it with frogs and chlorinated water? And field mice? Shouldn't they be in, um, fields? Is it too much to ask that nature's creatures stay where they're intended to be? Frogs in the swamp. Field mice in the fields. Turtles in the pond. Me in my pool.
If I had my druthers, I'd still be in that delusional world where things with bugged-out eyes, crooked legs and pointy noses stared back at me from glass cases in the children's zoo. But noooooo. That would be too easy. Too civilized. Instead, these vicious creatures stare back at me from a white basket with a look of mocking defiance—as if they know they stand swim between me and a clean pool.
I guess the question then becomes: Who wants it more? The frog or me?
And is this something I could take care of by, say, finding myself a massage-giving, chocolate-feeding, Cabana Boy?
~Laura
***A quick side note for any fellow mystery writers reading this post. A bloated frog body does NOT pop when you pull it from the water.