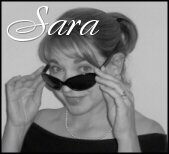 I have a confession to make. A few weeks ago I watched The Saint—great movie. Then I went back and watched it again, but this time I listened to the audio commentary. The sad thing is, I do this quite often now.
Pathetic, I know. I'm sure some of you GG blog readers out there are thinking, "Poor girl, she needs a life." I'll admit it's kind of weird and most people probably don't listen to the audio commentary, but keep in mind that it was Friday night, Mr. Pilot Guy was away, and I was basically burning time so that when I went to bed, I'd fall asleep in an exhausted heap.
You find out all kinds of interesting tidbits from audio commentary: how the scenes were shot, how actors were chosen, what scenes were improvised, which days the weather didn't cooperate, why the movie ends the way it does instead of with the alternate ending that's on the Bonus Features.
See, I love to find out how things are put together. Behind the scene details fascinate me. I'm a sucker for those tear-jerking background stories about athletes that air during the Olympics. I want to know how Extreme Makeover: Home Edition really builds a house in a week. You know there has to be a ton of pre-planning, pre-positioning, etc.
I think that's why I love mysteries—I like trying to uncover the carefully hidden clues and find out who did it. But reading mysteries and writing mysteries are two different things. I found that out the hard way. I flailed around for months, trying to figure out the structure of a mystery when I first attempted to write one. I eventually figured out the basics of plotting, but I've finally found a book that explains plot in more depth than anything I've read before. It's Story by Robert McKee.
I picked up the book because I signed up to attend the Sisters in Crime Goes to Hollywood workshop. We're going to learn how to pitch and sell our work to Hollywood. I decided I'd better check out this scriptwriting thing. Since I've never attempted to write a script (or actually thought about writing a script) I picked up a few books on scriptwriting, including McKee's tome.
It's about two inches thick and it doesn't focus on formatting or general guidelines for selling your screenplay. It dissects how to tell a good story. Some of the explanations are a bit too erudite for me. Like this one:
"When objective necessity contradicts a character's sense of probability, a gap suddenly cracks open in the fictional reality. This gap is the point where the subjective and the objective realms collide…" Page 148.
What he means is a character expects one thing to happen and it doesn't, forcing the character to make another choice, take another action, but it involves bigger risk.
Simon (Val Kilmer) in The Saint expected to complete a simple job (steal the formula for cold fusion from a scientist and rake in enough money to retire from being a professional thief), but a gap opens in his reality when he meets the scientist, Emma (Elizabeth Shue), and realizes that she's not what he thought. She's an innocent mixed up with the Russian mafia. He also starts to fall for her, but that is a subplot and the subject of another chapter in McKee's book. Simon is faced with a choice. Go ahead and steal the formula and hurt Emma or don't steal the formula and get on the bad side of the Russian mafia. I won't give away anymore details in case someone wants to rent the movie and dissect the plot for themselves.
So that's my guilty, slightly embarrassing pleasure, audio commentary. Now I'm off to look for the first gap in my synopsis that is driving me crazy, but since I've thrown out one of my guilty pleasures, feel free to share what you indulge in. Remember, confession is good for the soul and blogs have a curiously anonymous feel.