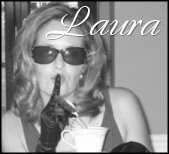 I remember the first time like it was yesterday.
The nervous feeling in the pit of my stomach… The way my tongue slid across my lips (over and over and over again)… The slight tremor in my hands… The pounding in my chest… The ever-increasing heat in the room…
Ahhhhhh, yes. The joys of public speaking.
My "first time" was with a handful of people known as the St. Louis Chapter of Sisters in Crime. And, truth be told, I knew the vast majority of the people in the room on a first name basis. The evening's topic—Catching The Eye Of The Media–was one I was well versed in thanks to my days as a working journalist. So really, it should have been a walk in the park to stand in front of that room and talk, right?
Wrong.
After I got through the above mentioned litany of issues, I opened my mouth to, you know, speak, and nearly choked. Why? Because somehow, in the time it took me to walk from my chair to the speaker's table, someone crammed a bag of cotton balls down my throat. Big, fluffy ones. That expanded with each word I spoke.
Truly, it was one of those life experiences I'd not choose to relive anytime soon. But I got through it (as did my poor, pitiful audience). I even remembered to use the visual aids I brought and to pass out the cool tip sheets I'd assembled in the week leading up to my virginal talk.
Looking back, it wasn't as awful as I thought. People listened and asked some really good questions. Several even went so far as to engage me in conversation afterward (preferable to avoiding eye contact and rushing the door).
It was a hurdle. And I'd jumped it. Granted it wasn't with the kind of grace I would have liked, but it wasn't bad… For my first time.
Fast forward to last week.
I was asked to speak to a group of about fifty people, a sea of unfamiliar faces with no connection to the writing world whatsoever. When I was introduced, I walked over to the podium and spoke into that microphone with a confidence I've never had before. There was no tremor in my hand, no pounding in my chest, no butterflies in my stomach, no desire to start shedding layers, and no lip licking. I had them laughing from the first words I uttered, firing questions left and right when I was done.
And I had absolutely no idea who I was at that moment. Certainly not the same Laura who stood in front of that Sisters in Crime chapter eighteen months ago trying desperately to remember to inhale and exhale in an alternating pattern.
Sure, I've got a long way to go before the public speaking circuit comes knocking at my door. But that's okay. The point is, I've gotten better over time. Much better.
Public speaking, book signings, conferences, maneuvering unfamiliar cities, meeting new people…it's all part of a strange new journey for me. A journey that's taken me out of the known and dropped me smack in the middle of the unknown.
And you know what? It was in the middle of that unknown that I finally found me.
~Laura
**It doesn't matter what profession you're in–at some point you have to talk in front of a group of people. So how do you do it? What works/doesn't work for you? And if you've got a less-than-stellar speaking moment you care to share, we'd all love to hear it (misery loves company and all that stuff).