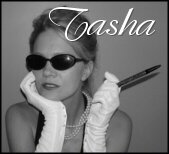 Catchy title, eh? Betcha thought I was going to sweep in here and tell you all sorts of sordid tales of my adventures in Istanbul. Maybe next week. Because while, yes, it was the trip of a lifetime, rife with more stories than you can possibly imagine (and more stories than I would ever own in public), I have someone far, far more witty, charming, and entertaining than any tale of mine could even hope to be:
Lauren Willig.
That's right: the gorgeous, enchanting author of the Pink Carnation series. You'll want to start with the first, The Secret History of the Pink Carnation and continue in order to the latest, The Seduction of the Crimson Rose. And you'll want to do that now. Unless, of course, you prefer amusing yourself by, oh, I don't know, rearranging your socks or eating crushed glass. Lauren is a phenomenal talent–you can't go wrong reaching for one of her books.
So let's get to it! Ready for a drink?
Lauren Willig's Easy Pink Punch:
Take two packages of frozen strawberries (the sort with syrup) and place at the bottom of a very large punchbowl. Open four bottles of extremely cheap champagne and one bottle of Asti Spumonte. Pour over frozen strawberries. Fling in a pint of real strawberries (make sure to take off the leafy bit, though, or that can get tricky). Ladle into plastic champagne glasses. Enjoy! Add more champagne and strawberries as needed. Help friends off floor (also as needed).
CARRIE: What makes a hot fictional man hot?
LAUREN: Knee breeches. And an epee. Definitely an epee. Of course, this means that he has to have the calves for the knee breeches and the skill to wield that epee, but, hey, no one ever said that being a fictional hero was easy. It takes years of grueling training as they practice that witty repartee and hone their ability to raise just one eyebrow….
DAVE: If you could time travel, where (and when) would you go first?
LAUREN: Usually, I would say eighteenth century London, but recently I've been having a hankering for the court of Charles II, especially in those early years right after the Restoration, when spirits were high at having the King return from his exile abroad, the London stage resounded with raunchy comedies, and roues tossed off lines of extemporaneous poetry to flirtatious court ladies and the odd orange seller. I'd just have to make sure to be away in the countryside when the Plague and Great Fire hit.
PATRICIA: What one item is essential to your wardrobe?
LAUREN: Three inch heels! At a petite 5′2″, nothing fits quite right unless I get that extra three inch boost (sometimes three and a half inches, depending on the hour of the evening and the length of the dress). Plus, I love the feeling of being up there on my stilt-like stilettoes. It's like a cocktail party in a shoe.
JULIA: If you could be a character in any book, who would you pick and why?
LAUREN: I would pick Barbara in Karleen Koen's "Through A Glass Darkly". When I was twelve, I identified intensely with the young Barbara and her single-minded determination to pursue the man she thought was her true love, her attempts to keep her heart in all diligence. As I grew older, and my view of the world grew less black and white, I came to a tardy appreciation of the older Barbara, and the compromises she had to make as the circumstances of her life changed around her. It's one of those rare books where a character genuinely grows and changes. I've also always wanted to live in the early 18th century with its decadent court life, wide-skirted dresses, and Jacobite intrigues, all of which Koen paints so vividly. What could be better?
ERIC: What character from a book would you like to have cook you dinner?
LAUREN: Well, I know I would NOT want Bridget Jones to cook me dinner (she'd be much more fun to go out to drinks with). Mr. Beaumaris from Georgette Heyer's "Arabella" seems like he'd be the domestic type. He can cook for me anytime.
TASHA: What's something about Regency England that would surprise us?
LAUREN: That so much of what we think of as "Regency" England really isn't the Regency at all! It's become such a convenient catch-all to call that period from the late 1790's through about 1830 the Regency that we all fall into that trap. But, really, the Regency was incredibly short: 1811 to 1820. This is something I've been thinking about a lot recently, since my books are set in 1803/4, several years pre-Regency. I made the decision to set the book I'm working on now at the court of George III, where my heroine is a maid of honor to Queen Charlotte, well before the Prince of Wales got his pudgy paws on the Regency (having spent the past few months hanging George III, I'm a little biased about the Prince of Wales right now). There are certainly many things my time period has in common with the "real Regency", like the high waisted dresses and even higher perch phaetons, but there are also a lot of ways in which that pre-1811 period had more in common with the late eighteenth century than with the eighteen-teens.
KRISTY: What food would you never eat?
LAUREN: Having eaten– and actually liked– haggis during a summer living in Scotland, I'm tempted to declare myself the owner of a cast-iron stomach. However, there is one thing I would never eat: beets. I've never had a beet that's done me wrong. In fact, I've never had a beet. But there's just something about the look of them that puts me off. I'm sure if asked they would feel the same way about me.
JILL: What is your favorite holiday?
LAUREN: I adore Halloween. Any holiday where you get to dress up as a princess and have free license to eat all the Halloween-themed cupcakes, cookies, and chocolates you want (because we all know that food has no calories on Halloween) is all right with me. I'm also a huge ghost story devotee. Give me a creaky Victorian mansion, an elusive phantom, a dark and brooding master of the house who may or may not be tormented by dark family secrets/a vampire/ a member of the Usher family/ all of the above and I can be happily entertained for hours.
A million thanks to Lauren to subjecting herself to our unholy prodding! Show your appreciation first by buying her books (yes, all of them; yes, immediately) and second by answering her questions in the comments:
– Who's the hottest fictional man you know?
– If you could visit just one century, which would it be?
– Men in kilts or men in knee breeches?
– What is your absolute favorite Austen adaptation?
– Vodka or gin?
They're good ones!
And tune in next week, when I swear I'll have some Istanbul debriefing for you, complete with incriminating pictures. Too much travel and too little sleep have rendered me incapable of doing the journey justice before then….
xo
Tasha