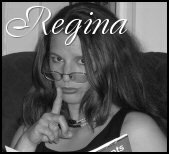 Brand names bug me. Nothing screams out of date like a brand name come upon decades later. It's a cheap ploy to set up a situation as ritzy by naming the cars the valet is parking, the type of champagne drunk and the store at which the protag. bought his wristwatch. It's lazy to let me know someone's seedy in just the same way, changing the brand names.
We are writers. We can write description without tempting the reader to ask, "Are they paying her for product placement or what?"
As previously posted on the DorothyL listserv, ages ago, I think details matter in writing. Not just for developing setting, but for developing character. And, even if it's cheap, I can use a good brand name now and then. But please people, make it really matter.
My rule of thumb about brand names is:
If it's there for a reason - to truly tell us something about the character
or to help as an identifier if it is, say, a clue or something - then fine.
Otherwise leave it out.
For example,
Saying a guy reeked of Old Spice tells me something about the guy.
Calling a sports car a Ferrari is okay if it helps us know which sports car
is which, or other relevant plot info.
Saying, "I pulled my Previa mini-van into the driveway," or "I pulled my
Camry into the parking space" doesn't add anything more (IMO) than, "I
pulled my mini-van into the driveway," or "I pulled my car into the parking
space." or simply, "I parked."
This is one of my biggest pet peeves. I think it only adds texture if it
actually adds texture, if you know what I mean. Again, examples:
If a young, trim guy eats All-Bran after coming back from his jog, it tells
me something (adds texture).
If a mom absentmindedly eats the Cheerios off her baby's high chair while
she's talking on the phone, it tells me something (adds texture).
If a forty-year old man eats Captain Crunch with extra sugar poured on, in
his boxers with an infomercial playing in the background at three in the
morning, that tells me something (adds texture).
If someone is eating Oatmeal Raisin Crisp or Honey Bunches of Oats at the
table, reading the newspaper? Well, that doesn't mean too much to me.
How about you? Meaningful brand names? When does it work?