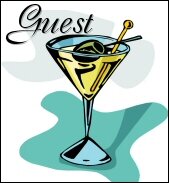 I met Alex Sokoloff at Bouchercon this year where she became an honorary Good Girl as she moderated the Good Girls' famous (infamous?) Get Unwrapped panel. Alex is back with the Good Girls today as our guest blogger. Enjoy! ~Sara
Under The Influence
By Alex Sokoloff
Okay, here's a game (since I know how the Good Girls love their games…)
Who are your writer role models?
Now, I don't mean who influenced your writing style, although that's a perfectly fine question to answer, too.
What I mean is, who influenced your LIFE style?
I'll give you some examples, since I've been thinking about this lately.
- Perhaps my earliest writer role model was not a writer, but she played one on TV. Rose Marie, on the Dick Van Dyke Show. I had no desire to be a writer at the time I was watching those reruns. I was actually more inclined toward being some kind of a biologist or vet – I had a virtual menagerie of dozens of animals as a child and would have been surprised to hear anyone say I'd grow up to be a writer. But one thing for sure – I knew I didn't want to be Laura Petrie. No matter how much Rose Marie complained, and even though I cringed to see her fetching coffee, I still thought she had the great job – hanging out in a room with the guys and being creative and funny all day long. Plus dating after. And lo and behold, I end up spending a good ten years of my life as a screenwriter, often in a room with a bunch of guys, absolutely NOT fetching coffee, but being creative all day long, and yeah, often, dating afterward.
- Another fairly early one, God help me, was Dorothy Parker. I think we all go through that phase of falling in love with her scathing poetry and defiant cynicism and emotional vulnerability. I've done performance readings of her stories for various stage retrospectives and reveled in the life and fire of her language. The glamour and wit and fun of hanging out with the Algonquin Round Table is a great fantasy that we all get a taste of at conventions like ThrillerFest and Bouchercon, and I think it's hard for any woman not to see herself in those brutal alone-by-the-phone ramblings of Dottie's. Now, I'll refrain from going into detail about how I'm emulating her love life, but I do have this quiet but enormous pride that I'm following in her footsteps as a Writers Guild union activist. Every time I've wanted to get off that WGA/WriterAction merry-go-round I think of Ms. Parker and keep on keeping on.
- Lillian Hellman, for sure my favorite American playwright. Notorious leftist activist as well. The whole thing with Hammett – not just for real, but fictionalized in THE THIN MAN. Do I seek out that kind of relationship out? Hah.
- Anais Nin… yes, well, here's where the writer lifestyle thing starts to get out of control. Affairs, incest, bigamy… do I really need to go there? Yet all that lush and overblown eroticism made for some amazing writing, and I can't deny the influence.
So, Good Girls, and FOGG (Friends of Good Girls) – who are YOUR writer role models?
- Alex, guest blogging for Sara, who is in Germany for a White Christmas…