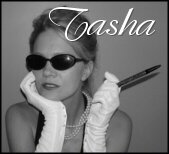 First off, a brief report on the Midwest Literary Festival: It was fabulous. A good time was had by all. Photographic evidence here.
Now! Cocktail time.
Prepare youselves, oh, men of the internet. Today we have girls.
Lots of girls.
Because we're having a debutante ball.
Aren't you glad you're here?
It's hard to click on a link these days and not stumble upon another group blog. But when's the last time you found a grog? The Debutante Ball professes to be just that, and the founding members, Tish Cohen, Eileen Cook, Anna David, Kristy Kiernan, Mia King and Jennifer McMahon each have debut novels coming out in 2007.
To celebrate the launch of their blog…er…grog, they've graciously agreed to join us for a Virtual Cocktail Party. And they've given us not one, but two recipes. Because these ladies are all class, they've included a special drink for your designated driver.
The Debutante Smartini
Drive to Canada. Canadiens, you may simply drive to the corner store. Buy Smarties, NOT to be confused with the chalky, sour bits of sugar in the States, these Smarties are divine little candy-coated bits of chocolate. Upon your arrival home, slip elegantly into your cocktail dress and proceed to separate all the red Smarties from the other colors. Hold red Smarties in reserve. Distribute the rest of the Smarties throughout your smartly decorated home in small crystal bowls, Baccarat will do fine. Remove your vodka from the freezer (it IS in the freezer, right?). Popov is not an option. Grey Goose or Belvedere, darlings. You are now ready.
Pour 2 oz vodka in chilled cocktail glass
Gently slip in three red Smarties, then swirl the glass
Drink
Smile seductively
The Designated Driver Debutante
Hoarde crystal bowls filled with Smarties
Serve with side of cold Arrowhead water
Smile indulgently
TASHA: OK, ladies, what's the best way to crash a debutante ball?
KRISTY: By looking like Helena Bonham Carter in Fight Club.
JENNIFER: Smuggle yourself in inside the ice sculpture.
EILEEN: I have long been a believer that if you act like you know what you are doing people will assume you do. I once walked into a department store, stripped a mannequin naked and then walked straight out the main door carrying it under one arm. (yes, I did return it) If you are going to crash a deb ball my advice go big hair, big dress and big attitude.
MIA: Posing as a photographer from Town & Country or Vanity Fair. Or a sales rep from Prada.
TISH: On horseback. Preferably perched atop a pricey Dutch Warmblood schooled to Grand Prix in Dressage. Your white show breeches and gleaming knee-high boots will leave you looking positively snake-hipped, and the top hat can be flipped over to collect notes from fervent admirers. What you choose to do with the whip is no concern of mine.
ANNA: By looking good and lying - the way Melanie Griffith crashed the wedding in Working Girl by pretending to be a guest, dancing with Harrison Ford, and then swooping in and getting the information she needed. (A technique regularly practiced by every tabloid-esque magazine reporter). I say, if you look hot and have a Harrison circa 1985 on your arm, you've more than earned your invitation.
BETH: It's hard to go wrong with Harrison circa 1985. So whose attention do you fine ladies hope to attract with your pithy blog entries?
JENNIFER: Um, people who buy books? (not very original, but honest)
ANNA: Every boy who's ever spurned me, every teacher who didn't declare me a genius of the first order, and every boss who's ever fired me (yes, there have been several). Or just people who like to spend their money on books.
MIA: Readers, film producers … readers who are film producers … readers who are film producers who are authorized to make multi-million dollar offers on the spot …
TISH: Several old bosses. I plan to bore them to death and feed them to my Warmblood in a steaming mash.
KRISTY: Pithy readers with extra cash and access to a bookseller.
EILEEN: Ideally, I'm looking for a book buyer with no short term memory who buys
my book over and over because they can't remember if they already have it.
ERIC: If you could carry a concealed weapon, what would it be?
KRISTY: Who says I don't carry a concealed weapon already? If I could add to the arsenal I hide in my heels, I would carry a manners grenade, and whenever someone was rude I would whip it out, Rambo-style, and make them polite.
JENNIFER: A poisoned hatpin.
EILEEN: They say the pen is mightier than the sword and I have a lust for expensive pens. I'll go for a Mont Blanc and a rapier wit.
MIA: Deidre wields a mean spatula.
TISH: The half-dead rubbery crab things that washed up on the beach in Provincetown. But I wouldn't carry them on my person for obvious mucoid reasons.
JESSICA: What's the worst song ever?
ANNA: SexyBack by Justin Timberlake. The worst part of that song being that it's convinced me that I like it. We can add to that a whole boatload of other Timberlake songs, not to mention the entire oeuvre of NSYNC and the Backstreet Boys.
KRISTY: Butterfly Kisses. *shudder*
MIA: "Shout" by Lloyd Williams (known as the song from Animal House). Aside from the fact that it's one of those songs that results in everyone bouncing around hysterically in pseudo-choreographed movements, it's vile.
EILEEN: Come on Eileen, by Dexy's Midnight Runners. This song came out when I was in High School. My name is Eileen. I was surrounded by adolescent boys who think body functions are funny. Use your imagination. I was tortured I tell you. Plus the song is so damn catchy and they wore overalls. (shudder)
JENNIFER: I once heard a version of "Silver Bells" sung by Regis and Kathy Lee.
TASHA: What's your favorite thing to slip in the punch when the chaperones aren't looking?
JENNIFER: A rubber cockroach.
EILEEN: Bailey's Irish Cream. It tends to clump up on the top like tiny boozy dumplings.
MIA: According to my main character, Deidre, lemon peel or orange zest. You can never have too much of either…
KRISTY: How did you know I slipped in the punch? Look, someone should have cleaned that up immediately or they should have at least mentioned that I wasn't ALLOWED up on the table.
TASHA: Hey! We're too busy killing people for money to worry about cleaning spills. Give a girl a break, will ya?
Thanks, thanks, thanks to the Debutantes! We're so glad we could throw your coming out party!
Now, it wouldn't be a party if our guests didn't leave some questions for readers, so here goes:
1. Trade paper (those slightly larger paperbacks) or hardcover? (Answers to this question will be used to convince my grandfather that I really am being published despite the fact that it's not going to be a hardcover.)
2. What about your sibling makes you childishly, insanely jealous about your sibling?
3. What's the one thing that's always next to your bed?
4. What unsolved crime would you solve?
5. If you could give a fake psychic prediction to your ex- what would it be?
6. What is your ideal horoscope?
7. If you could host your own TV show, what would it be about? What would it be called?
8. What's the one recipe you'd make all the time if you didn't actually have to shop, prep, and cook it?
9. Is it just me or is Mariah Carey really a man?
10. If I pay you in American dollars, will you leave windy comments of adulation and delight on my blog posts?
11. Reality TV: A gift from the heavens or the bane of our collective existence?
12. The Devil Wears Prada: an exciting success that paved the way for other female novelists or pathetic player-hating?
Next week, The Good Girls will be at Bouchercon, so we'll be having a real cocktail party instead of a virtual one. Don't worry, though, I wouldn't leave you without a drink recipe. If nothing else, I'll post directions for the Bloody Marys we'll be serving at our panel.
If any of you has a question you've been dying to ask us, post it here: We'll include it in our panel. Need to know more about Laura's obsession with office supplies? Who Diana's spying on in her picture? How Heidi's going to manage to be in more than one place at a time? What Sara's really hoping to learn from the audio commentary on DVDs? How I really feel about David Mitchell? Or maybe what we did to convince the lovely Alex Sokoloff to get up way too early to join our panel? SEND IN YOUR QUESTIONS! We'll tell you anything you want to know!
Just don't get me started on a certain glaring omission from the Booker Shortlist…
xo
Tasha