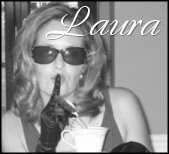 Okay, so I headed to Borders Café last week to work on a proposal for my agent. I dropped my stuff down on a table (not my usual one thanks to some church book club—the nerve!) and stood in line to order.
The line was surprisingly long for being just 9:20 in the morning, so I killed time by looking around at the impulse-buy shelves I normally ignore. My eyes scanned over the bags of gummy bears, pile of magnetic travel bingo boards, and plethora of dashboard travel mugs (in a host of bright, vivid colors) while my mind got a jump-start on an opening for chapter two.
And that's when I saw it…
Are you ready?
A mini 4-subject notebook!!!! That's right…a purse-sized miniature notebook with sections!
Breathe, Laura, breathe.
If you're like me, you have one of those small spiral bound notebooks (available in red, blue, green, or yellow) in your purse or laptop case at ALL times. You use it to jot down character names, traits, interesting bits of dialogue, plot ideas, setting details, etc. An assortment of critical information that is, more times than not, interspersed with non-writing gibberish like chores, upcoming appointments, and phone numbers you can no longer identify.
But this…this…this purely ingenious notebook puts an end to disorganized notes. It brings order to our world. Separates creativity from the mundane.
Stop laughing. I'm serious.
Okay, so I'm in the line, waiting to order my medium-sized hot chocolate and thinking about chapter two, when I see this—oh God, I still get excited thinking about it—"office supply" (a term that simply doesn't do this notebook justice) that was obviously made with a writer in mind. And, well, I squealed. Out loud. In line.
By now, you're kind of beginning to understand the title I slapped on this post, aren't you? At least the "geek" part.
Anyway, this mini 4-subject notebook left such an impression on me that I had to go home and tell a few writer-buddies about my find. And you know what? The one I told on email not only understood my excitement, but wanted one too. The one I told via cell phone…squealed (though, my squeal was closer to a perfect 10 than hers, but, in all fairness, she lacked visual contact with the item and was basing her version on a simple oral description).
"Squad" just became clear too, huh?
But you really can't laugh at us. Not if you write. Or build. Or do anything creative. Because you know—deep down inside—that you're tempted to see if you can score one of these things on the Borders website, aren't you?
And why is that? Why do so many of us have such a childlike fascination with really cool office supplies?
Because they're the bomb, that's why.
~Laura
**I picked up one extra mini 4-subject notebook and it's looking for a good home. So, to all you writer/other creative types out there…hit "Leave A Reply" under this post and tell us about your favorite office supply (it can be one that either exists or one you'd like to see invented—please clarify which group yours belongs to). At the end of the week, the Geek Squad (no, not that one) will put their heads together and decide who is most deserving of this very cool mini notebook. Judgment will be based on comment enthusiasm AND appropriate geekiness. Go!