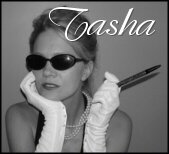 I think we already know the answer to that question.
But. Even I should be embarrassed to admit that I went through most of the day believing it was Wednesday, clinging to the delusion that I didn't need to write this blog entry until tomorrow, rejoicing that I had all kinds of time to keep doing what I've been doing. And what is that? Reading. Many, many good books. Pausing, on occasion, to watch back-to-back-to-back episodes of The Wire. It's Post-Book Land, people, and I'm living the debauched life.
About half an hour ago, I closed the novel I'm powering through, turned out the lights, and buried myself under my well-fluffed comforter. The ceiling fan's on, my balcony door is open, cool air kissing my face. Bliss. Until I realize that it is not actually Wednesday. It is Thursday. Only now it's after midnight, which means it's Friday and I'm overdue for a blog.
So how did I get in this deranged state of mind? To start, I spent last week in New York, partly for the Edgar Awards, partly for meetings, and partly to spend time with lots of my favorite people in one of my favorite cities. I had Thai delivered to my hotel room one night and fell asleep crazy early, catching eleven hours before I woke up. Had an amazing lunch with my editor and a fantastic afternoon tea with Lauren Willig. Went to a slew of Edgar parties, some of which required cocktail dresses (yay!). Hung out at the Algonquin wishing I knew more Dorothy Parker quotes (although, really, "Brevity is the soul of lingerie" should suffice).
Oh yeah.
And I got to see Arthur Phillips read, which was wonderful. I'd tell you all to go buy his books, but I cannot imagine there's a soul amongst you who's not already done just that.
It was quite a week. Pictures here. Wish I was still there. I've said it before, I'll say it again: I love New York. And they have great cabs. Just in case you were wondering.
ANYWAY.
We are not here to listen to me blather on about the city that never sleeps. Although I do feel obliged to point out that it does, in fact, sleep. I certainly didn't see much happening on my thirty-odd block walk back to Grand Central way too late at night.
Not, you know, that I make a habit of wandering around in the middle of the night. At least not alone. Today's Virtual Cocktail guest, Robert Gregory Browne, makes a point of ensuring that I'm properly chaperoned at all times. His debut novel, Kiss Her Goodbye, has just been reissued in paperback, and you'd be hard pressed to find a better book to keep you up tonight.
So, yeah, you can go buy it. Now. A couple copies. Never know when you might need to have a gift or two on hand.
I'm just saying.
Ready for a drink?
Robert Gregory Browne's Irish French Kiss
1 1/2 oz. Irish Cream (Bailey's)
3/4 oz. Cointreau
3/4 oz. Grand Marnier
1 wedge Oranges
BRETT: Anything particular you want to whine about today?
ROB: Today? I'm always whining, ask my friends. Oh, wait, you probably got this question from one of my friends. I'm guessing Battles. Or maybe Blackmoore. So I'll whine about THEM for awhile. Oh, hell, I don't have the energy.
SEAN: If Spiderman and Wonder Woman had an affair, what special powers would their kid get?
ROB: I'm guessing that kid would be one helluva basketball player.
KRISTY: Describe your ultimate dinner.
ROB: My ultimate dinner is Blackened Ahi on a bed of white rice from Roy's restaurant in Honolulu with my family. Roy's blackened ahi has, without question, the greatest sauce known to man. Roy's food, in general, is orgasmic.
Barring that, a good chicken katsu plate lunch from Grace's in Honolulu makes a damn good dinner, too.
BRETT: Is there any truth to the rumor you take a megaphone to book signings?
ROB: Hahaha. Anyone who knows me knows that not only do I not take a megaphone, but the next person I have to sit next to at a signing who USES a megaphone (whether it be electronic or merely cupped hands) to hawk his or her books may well find him/herself wearing his/her ass for a hat.
CARRIE: What's your worst nightmare?
ROB: A serious answer: losing a child or loved one. That's been an underlying theme in just about everything I've written, including KISS HER GOODBYE. I can't think of any nightmare worse than that.
BRETT: Mac or PC?
ROB: Both. I use a PC for writing and video editing and a Mac for music composition/production (Logic 8 rocks). I love them both, have been a PC guy longer, but them Macs sure are purty.
JIM: If you could change one thing about Hollywood, what would it be?
ROB: The blockbuster mentality that dominates that world. I miss the old days of the early seventies when stories were about people, not gadgets.
BRETT: How many dozens of books do you read a year?
ROB: Read? What mean read?
Heh. Let's make him read. Answer the questions he's left for the comments……
1. How many writers does it take to screw in a light bulb?
2. Bedroom chatter: salty or sweet?
3. What's your preferred method of murder?
That's it for now! I'm hoping I can recapture the now disturbed perfection of my bed. Let me sleep late, will you?
xo
Tasha
P.S. I just realized I forgot about my nearly disastrous flight home. Fifteen minutes in the air and the cabin filled with smoke. They told us it was nothing to worry about. Heh. We circled nowhere for a while, and then were diverted to JFK for an emergency landing. A runway lined with more emergency vehicles than you can count does not exactly inspire confidence. Pretty freaky to be on a plane in a situation like that. Makes you take stock of things. But I liked what I saw when I thought about my life.
And that is a wonderful, wonderful thing.