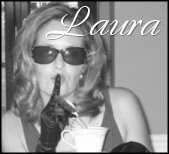 It was kind of a surreal moment, standing there, watching last year's top fund raiser as she cut the blue ribbon to start this year's walk. Sure, I'd seen that same basic image countless times in newspapers and on the television screen–it's gotten fairly common place. The surreal-ness, though, came from the fact that this time I wasn't observing the action from the relative safety and ignorance of my own life. I was watching from about five feet away while standing on a hill wearing sneakers and waiting for the moment I started walking.
You hear about these things going on for various diseases and causes (just about everyone has a walk these days), but it's quite another thing to be a part of it because you have the condition stamped across the t-shirt everyone's sporting…
(The shirt)

I'll admit I got misty-eyed as her shiny pair of scissors cut through the tape, my new reality rather hard to swallow at times. But it was an emotion that faded fast thanks to the twelve people standing behind me—literally and figuratively.
That's right, faithful GG blog readers, the M.S. walk in St. Peters, Missouri was held this past Sunday and it was a group-created success from start to finish…
**Blog reader Beth provided our team name—MSKeteers (Beth, your basket of autographed books and $15 Starbucks gift card will arrive on Friday).
**Authors Heather Webber, Shelley Galloway, Judy Larsen, and Melanie Lynne Hauser signed on to walk with me from the moment I uttered the desire aloud. Heather got our team web page up and running and drove—along with Shelley and Melanie—five hours to get here for the big event. Big hugs, ladies!
(The original five)

**Close friends and blog readers (Joe, Barb, Will & Linda, Sharon & Katherine, and Tony & Suzanne and their whole support dog team) flocked to our team site as soon as they heard about our walk, signing up to be one of the MSKeteers! They showed up on Sunday despite the thirty-five degree temps and occasional sleet/rain showers. I love you guys!!!
(The official MSKeteer team)

**GG blog readers, various members of the writing community, and loved ones visited our team's website and donated to the cause—skyrocketing the MSKeteers to the third place fund-raising team for this particular walk location (we raised just over $2,600!!!!!!!). Donations—big and small—came from all sorts of places. There was a woman from California who reviewed one of my books once, an old high school friend who got his company to match his donation, people I've "met" through this blog and/or conferences, family members, total strangers…
**And then there was Texas Lynn (a loyal GG blog reader) who tracked down a M.S. walk in her own neck-of-the-woods and not only laced up, but also conducted her own fundraising. I've never met Texas Lynn. Ever. We've simply cyber-met right here on this blog. Yet she pounded the pavement and hit up her family, friends, and local businesses because of something I wrote along the way.
(Texas Lynn with her shirt)

I'm thrilled to be able to say we did it! Yay! Yay! Yay!
But as proud as a moment like that can make you feel, it's fleeting. Just this morning, while heading to one of my teaching gigs, I heard a news bite on the radio about rising drug costs. Apparently, many insurance companies are going to a percentage based fee (rather than a flat co-pay) for people with specific (read: expensive) illnesses—M.S. and certain forms of cancer being singled out directly. A percentage based fee (on necessary and extremely costly drugs) leaves those patients with a very tough choice…
Treat or don't treat. And, in some cases, live or don't live.
That's a decision people shouldn't be forced to make. Ever.
Will the $2,600 the MSKeteers raised change that sad fact? Not directly. But our $2,600 and another team's $1,800, and another team's $3,500 (and so on and so on) adds up. It adds up to much-needed assistance when the chips are down, it brings visibility to something that most people see from the sidelines, and it gets us closer to finding a cure. For M.S. For cancer. For diabetes. For Alzheimer's. For Parkinson's.
Why? Because people, banding together for what is right, can and do make a difference.
Remember…The collective voice will always be heard over the whisper of one.
A big thank you to all of you. Whether you donated, walked, or simply kept us in your thoughts and prayers—it all mattered more than you can ever know.
Hugs,
~Laura
P.S. The MSKeteer's original five (minus me) held a signing the day before the walk. Guess who showed up, blog readers? The one-and-only Theo Epstein (found weekly–in all his grumpy glory–in my comment section). So, in answer to Will's question at the time (which I'd often wondered myself)…yes, Theo IS real. Unless he sent an imposter…
(Yup, that's Theo and me)