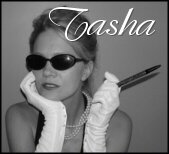 How do you feel about general anesthesia?
Early last week, I went to the dentist to get a wisdom tooth removed. It wasn't impacted, and was supposed to be simple to get out. But after a brutal forty-five minute struggle we had to admit defeat. The tooth was going nowhere. And just to prove the point, it broke during a last-ditch attempt to force it from my jaw. There was only one thing to do.
The dentist crammed my mouth full of gauze, gave me a prescription, and set up an emergency appointment with an oral surgeon.
Now. None of this surprised me in the least. Not one little bit. See, I've always known that if I had to get my wisdom teeth pulled it would be a fiasco. It's been one of my favorite fears for as long as I can remember. I even dream about it when I'm anxious. Which is pretty silly given the fact that I've never, never, never had any problems with my teeth. But since when is dread supposed to be rational?
You know how they say that facing your fears makes you stronger? That it's never as bad as you worry it could be?
They lie.
I dragged myself to the nearest CVS, which just happens to be across the street from Brilliant Scientist's office, and I put in a panicked call to him. He filled the Rx for me–didn't think that my bruised and swollen cheek and split lips were fit for public consumption, and no amount of gauze was going to keep the bleeding in check. I was quite a sight.
So I pop some codeine. I've got almost five hours to kill before I go to the surgeon, and I figure I've got at least half an hour before the Novocaine wears off. Naturally, I beg Brilliant Scientist to take me to Borders, and in my drugged state it's even more like heaven on earth than usual. It's paradise. Nirvana. Every good thing.
But it can't last. In case you were wondering, codeine is about as effective as water when it comes to stopping the pain of a half-removed tooth. Those exposed roots? Excruciating. I thought–wished–I would die before salvation came.
This is medicine, though, right? So you know there's not going to be a quick and simple outcome here. Brilliant Scientist drives Drug Girl to the office, where I spend an hour filling out forms (with blood trickling from my lips). I also tell the surgeon to remove all my wisdom teeth, not just the stubborn one, because there is no way in hell I'm ever going through this again. Finally, six hours after I'd left my original dentist appointment, the goddess I call Anesthesiologist put me out of my misery.
I've never been knocked out before. It's freaky. One minute you're lying there, with a couple of people hovering above you, and the next thing you know you're still lying there, but in a different room with the same people hovering over you, but enormous amounts of time have passed unnoticed by you. It's unsettling. Seeing double doesn't add to the general comfort of the situation. An hour went by and I had no part of it. I had no awareness–not even a feeling that I was going to fall asleep. Not sure that I really liked it. I'm no fan of losing all mental capacity. It's unnerving.
Once I woke up they ushered me out, and Brilliant Scientist (who really should be called Future Nobel Winner–he deserves one in Peace as well as Medicine after tending to me on narcotics) filled my new and improved prescription. Meprozine. Wow. Meprozine. Talk about having your coherence removed. For the better part of a week I was like a character from Trainspotting, lying in bed, aware of pretty much nothing, watching DVD box sets over and over, forcing myself to eat soup.
And the best part? It still freaking hurts. My advice? Keep your wisdom teeth!
However, now that I've been downgraded from the heavy-duty narcotics, I can let myself indulge in a nice, relaxing adult beverage. Maybe that would be just the thing to help dull the pain left by the apparently useless ibuprofen I'm popping in large quantities every four hours. Good thing that we've got someone with us today who can point me in the right direction.
J.D. Rhoades' latest Jack Keller book, Safe and Sound, is his best yest–and that's saying something. Because let me tell you, Dusty can write a story that will grip you like few others. I love sitting down with his books, knowing that while I'm reading, nothing's going to be able to distract me. And, really, is there anything better than getting sucked into a novel like that? Sure beats hours lost to anesthesia…
DUSTY: This drink recipe is for a Dark N' Stormy, and I learned it from our mutual friend, writer and rum connoisseur Bob Morris.
(If you don't already read Bob's blog, check it out here.)
2 oz Gosling's® Black Seal rum
4 oz ginger beer (preferably Barritt's but good luck finding that here).
Lime
Mix ingredients together in an old-fashioned glass over cracked ice, and serve.
Note that Gosling's has trademarked the name Dark N' Stormy, so that if you use any other type of rum and try to call the drink by that name, Bermudian Lawyers will deliver Stern Letters to you, and nobody wants that.
KRISTY: Any decent new music out there you like?
DUSTY: I'm a huge Fountains of Wayne fan. I call them the Secret Masters of Pop, because they seem to have effortlessly mastered the art of the musical hook that gets in your brain and won't get out. And their lyrics are a hoot.
My son introduced me to a band from Canada called The Weakerthans, who do these wonderfully offbeat songs. There's one called "Pamphleteer" which may be one of the most poignant story songs I've ever heard.
NATHAN: Dusty, you are a role model for a great number of young children in this country. What do you say to concerned parents who fear that their little ones who look up to you and idolize Jack Keller are showing signs of becoming tormented combat vets-cum-renegade bounty hunters themselves?
DUSTY: Send them to me. I'll set them straight. Plus, I need someone to wash my car.
KRISTY: Besides the dynasty thing (which I agree with) WHY Obama over Hilary?
DUSTY: Hoo-boy, you really want to open THAT can o'worms? Okay, here goes. I like Obama over Hillary mainly because of these lines from his Democratic convention speech:
"…there's not a liberal America and a conservative America — there's the United States of America. There's not a black America and white America and Latino America and Asian America; there's the United States of America. The pundits like to slice-and-dice our country into Red States and Blue States; Red States for Republicans, Blue States for Democrats. But I've got news for them, too. We worship an awesome God in the Blue States, and we don't like federal agents poking around our libraries in the Red States. We coach Little League in the Blue States and have gay friends in the Red States. There are patriots who opposed the war in Iraq and patriots who supported it. We are one people, all of us pledging allegiance to the stars and stripes, all of us defending the United States of America."
After the divisiveness of the last few years, after Ann Coulter calling all criticism of the government "treason" and Bill O'Reilly saying he was willing to give San Francisco over to terrorist attack because he didn't like a vote their city council took, I think that's the message and that's the leadership we need.
NATHAN: Dusty, surely you agree that all these librul bloggers are gettin' a bit big for their britches. What do you suppose we should do with these traitors?
1. Shewt 'em.
2. Send 'em back to Whateverstan where they came from.
3. Hang 'em high 4. Oooooooo! Glenn Beck is on! Gotta go!
DUSTY: Well them damn liberal courts keep saying you can't just make 'em disappear, because the courts, as you know, support terror and want Saddam back in power. So I'd go with B. No, C. Maybe A. Whatever.
KRISTY: Jay Leno loves the Keller series so much that he calls you up and offers you the choice of one of two cars from his collection. Do you take the Toronado or the Roadmaster?
DUSTY: I'd try to hold out for one of the Dusenbergs. Those look like something you'd see Daddy Warbucks being driven around in. Of course, I'd need a top hat and matching coat. And spats. I have no idea what spats are, but I've always wanted some.
KRISTY: When our alien overlords finally arrive, do you think they'll decide we're just another form of shellfish?
DUSTY: Well, considering how many I've consumed, I suppose it would be proof positive that God has a very, very dark sense of humor.
J.T.: Why do they call you Dusty? You've always seemed so clean…
DUSTY: Har-dee-har-har. Actually, I have no idea. My parents have called me that as long as I can remember. There was a Dusty Rhoades who played for the New York Giants in the 50's and pretty much won the World Series for them, but my folks have never been big baseball fans, let alone Giants fans, so who knows?
NATHAN: Who should play Marie Jones in the screen adaptation of Good Day in Hell? I don't mean the awesome motion picture theatrical release that is sure to whomp all kinds of ass, but rather the crappy made-for-tv abomination that some Hollywood douchenozzle slaps together without your permission and you gotta sue 'em. Who'd be good for that role?
DUSTY: Thanks so much for the question. For that version, I'm thinking Lisa Kudrow.
J.T.: How do you adapt and retell a lawyer joke?
DUSTY: I turn them into Republican jokes.
Actually, when you're an attorney, lawyer jokes are one of the things you learn to live with. I have a standing bet that if anyone can tell me one I haven't heard, I'll buy them a drink. I have yet to have to pay off.
CELIA: What's the most horrifying thing you've seen at a writers' conference?
DUSTY: Omaha. Mayhem in the Midlands. Bachelorette Party. There were…props.
That's all I can say. It's still too painful.
NATHAN: I just started reading The Devil's Right Hand. Despite what the blurbs and jacket copy lead me to believe it is not at all a warm and inspirational cozy whodunit set in a sleepy New England hamlet where a feisty feline has a nose for sleuthing. Is all the swearing and general unpleasantness really necessary? I mean really.
DUSTY: Yes. Really. Now FOAD.
ERIC: Best book you've read lately?
DUSTY: I assume you mean besides A Poisoned Season, by Tasha Alexander, available now at fine bookstores everywhere.
TASHA: Dusty, bless you. The check's in the mail.
DUSTY: I just finished Jon Clinch's Finn, which is the story of Huckleberry Finn's vicious drunkard of a father (known only as "Pap" in the book). Sometimes these "reworkings" of classics wind up being stupid, but Clinch does a great job of seamlessly weaving what's in the original into Pap's backstory. And even though Finn is pretty much a monster from the first chapter, Clinch actually makes you feel for the poor bastard, even if you can't actually like him.
NATHAN: Share with us a bit of your writing process. Please provide a few tips for the first time and wanna-be thriller novelists out there so they can rock a bit harder and suck appreciably less. The world thanks you in advance.
DUSTY: The process: Pour drink. Sit down. Open laptop. Start book. Curse myself for ever thinking I could do this. Drink more. Finish book. Send book to publisher. Drink while mourning end of writing career with this egregious piece of trash I just sent in. Get editorial notes back from publisher. Weep. Drink heavily. Rewrite. Send book back in. Collect advance. Drink till advance money is all used up. Repeat.
I trust you'll see the common thread running through this.
Let's all show Dusty our appreciation for his never-ending wit by buying multiple copies of his books. Got it? Good. And when you're done with that, answer his questions for you:
Have y'all seen Dennis Kucinich's wife? How the hell did the little gremlin pull THAT off?
Which movie remake of the last fifteen years did the world need least?
J.K. Rowling is now supposedly turning to crime fiction. Good thing or bad thing?
Has something in a work of fiction ever upset you enough that you wrote the author an angry letter? How about an e-mail?
That's it for now. I'm sorry to say I've got no plans for next week at the moment. Because, frankly, if my mouth doesn't stop hurting I'll probably have thrown myself in front of a truck before Friday. I can, however, offer you a sneak peek at the cover of my next book, Elizabeth: The Golden Age. Just pretend you can't see the notations made by the studio for revisions…
xo
Tasha