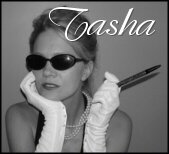 It's a very surprising thing when you pick up your phone and your agent is calling out of the blue to tell you that your publisher wants you to write the companion novel to an upcoming Cate Blanchett/Clive Owen movie. A film that's the follow-up to Elizabeth, which was nominated for seven Oscars. A film that tells the story of England's magnificent Elizabeth I during the period of the Spanish Armada.
Can you say: Numb with disbelief?
Needless to say, this was an offer I couldn't refuse. So watch for me on the red carpet when The Golden Age premieres. I'll be the one in the drop-dead blue dress.
Phew. I don't know about you, but all the celebrating that's been going on around here lately is making me thirsty. Let's have a drink! Our guest today is the wonderful and amazing Mia King, whose debut novel, Good Things will be in stores everywhere next week. She lives in Hawaii, so is not being subjected to the unforgiveable Chicago weather that will be bludgeoning me this weekend. I'll do my best to keep my location-jealousy in check…
Feel the Heat! Mia King's Ultimate Lava Flow
2 oz strawberry pureé
1 oz light run
1 oz sweet & sour mix
1 oz coconut syrup
1 oz half and half
Ice
Pour strawberry pureé into a 14-oz hurricane glass. Fill blender with ice (about 1/3 full) and add all other ingredients. Pureé until slushy. Tilt hurricane glass to the side, and gently pour blender pureé down the inside of the glass, careful not to disturb the strawberry pureé. The strawberry pureé will start to flow to the top. Garnish with slice of pineapple and orchid. No orchid? Okay, fine, one of those cheesy paper umbrellas then!
KRISTY: Are you anything like Deidre in Good Things? Like, can you actually make any of those scrumptious sounding recipes?
MIA: I can but I have to admit I'm more of a Rachel Ray, K.I.S.S. kind of gal. I'm pretty good at taking whatever I find and making it edible, but I don't think it would land me a TV show or my own line of branded baked goods. Still, I loved coming up with the recipes and having friends try them out and tweak them (I'm really much better as a taster …).
CARRIE: If you had to live in a shack in the woods, as Deirdre winds up doing, where would you prefer to be?
MIA: I once saw a picture of E.B. White typing in a cabin on a lake in North Brooklin, Maine. The picture was shot in black and white and the cabin was sparse and spotless. Totally inspiring. And clean. Very clean.
CARRIE: Of course you live in Hawaii, so I suppose it's so gorgeous there that even living in a shack would be delightful. Do you spend all your time in a bikini chasing waves?
MIA: I spend all of my time in sweats chasing my kids. We don't get to the beach nearly enough as we should.
TASHA: Volcanoes: roast marshmallows, throw in a virgin, or run?
MIA: Volcanoes are serious business here, especially since ours has been flowing since 1983. Also, Pele, goddess of the volcano, is definitely not one to be reckoned with. Last I heard, she takes virgins, but men only.
KRISTY: Your husband, Darrin Gee, is also an author, with a non-fiction book about golf coming out this year. How do two writers live in the same house and not throttle each other? Or at least whack each other with golf clubs once in a while?
MIA: Our therapist says we're doing great!
MAGGIE: What three things can anyone living in Hawaii not live without?
MIA: Costco. Costco. Costco.
KRISTY: Domestic Diva Throwdown: Martha Stewart vs Sandra Lee. Last one standing and why…
MIA: Martha Stewart, hands down. I'd like to see Sandra Lee under house arrest with perfectly pressed khakis …
CARRIE: You have 32 minutes to whip up an elegant dinner designed to impress with the ingredients you have on hand right now. Who's on their way, and what do you make?
MIA: The Dalai Lama. We've got 6 oz of leftover grass-fed NY steak, leftover jambalaya, fresh papaya, frozen salmon, frozen mahi mahi, edamame, leftover rice, way too much fresh broccoli, leftover macaroni and cheese (Annie's organic white cheddar shells). Lots of stuff in the freezer, including the frozen fruit medley from Costco (for smoothies). Canned goods too. OK, here's what we'll do: we'll re-heat the rice, stir fry the edamame in canola oil with shoyu (soy sauce) and chili pepper flakes (the Costco packets leftover from some pizza we brought home), put the packaged mahi mahi in a bowl of water until it defrosts, about 10 minutes (they're individually packaged – again, Costco). Chop up the fresh papaya, pull out the mango pieces from the smoothie bag, add the canned pineapple, blend it up quickly then put it on the stove with a cup of sugar and turbo reduce it (if I really get short on time I'll nuke it on medium or add pineapple marmalade). Throw the mahi mahi on the grill (I have no idea if His Holiness is eating fish these days but we do – with more time I'd dip it in egg, cover with panko flakes and chopped mac nuts then pan fry on each side). We'll stir fry the broccoli with a little shoyu as well in case he's not eating fish. We have only one tub of organic tofu, so I'll slice it and serve it cold as a side dish with sesame oil and chopped green onions. Cooking for a Tibetan Buddhist couldn't be easier.
Thank you, thank you, Mia for joining us today! Tune in next week, when our guest will be Friend of the Good Girls, Robert Gregory Browne. Let me know if you've got any pressing questions for him. But first, take a minute to answer the questions Mia's left for us:
1. What's one thing in your house that you should throw out or give away, but just can't?
2. If you could have any baked good delivered fresh to your every day for a year, what would it be?
3. A local cable network wants to pay you to host your own one-hour TV show. The offer is to good to turn down and you have an unlimited budget for programming. What would it be called and what would it be about?
See ya next week!
xo
Tasha